lundi 18 avril 2016, 09:48
Du 26 au 29 mai 2016 se déroulera en France la première édition du Bourgogne Tribal Show (Besanceuil, Saône et Loire) . Cette foire sera accueillie par la galerie de Bruno Mory, marchand d'Art Contemporain et collectionneur qui a ouvert ses portes il y a 18 ans, en pleine campagne Bourguignonne .
L'évènement est organisé par quatre marchands français spécialisés dans les arts tribaux : Laurent Dodier, Bruno Frey, Jacques Lebrat et Anthony JP Meyer. L'objectif de la foire ?
« S'échapper des rendez-vous connus de l'art primitif pour revenir au plaisir du partage, de la convivialité et de l'échange autour de l'art. »
Une vingtaine de marchands sont attendus pour participer à l'évènement:
Jérôme Caubel & Stéphane Brosset / Uzès
Galerie Didier Claes / Bruxelles
Galerie Laurent Dodier / Le Val-Saint-Père
Michael Evans Tribal Art / Dijon
Bruce Floch / Annecy
Galerie Bruno Frey / Arnay-le-Duc
Ben Hunter Tribal Art / Londres
Stéphane Jacob – Arts d'Australie / Paris
Kapil Jariwala / Londres
Galerie Olivier Larroque / Nîmes
Punchinello – Jacques Lebrat / Paris
Galerie SL – Serge Le Guennan / Paris
Galerie Lemaire / Amsterdam
Patrick & Ondine Mestdagh / Bruxelles
Galerie Anthony JP Meyer / Paris
Galerie Ratton / Paris
Bryan Reeves – Tribal Gathering London / Londres
Art islamique et art indien – Alexis Renard / Paris
Adrian Schlag – Tribal Art Classics / Bruxelles
Tribal Design – Elisabeth Verhey / Amsterdam
La communication a été confiée à DELVOYEURS, une jeune société d'évènementiel .
From 26 to 29 May 2016 will be held in France the first edition of Burgundy Tribal Show (Besanceuil, Saone et Loire). This fair will be hosted by the gallery Bruno Mory, Contemporary Art dealer and collector who opened it 18 years ago, in full Burgundian countryside.
The event is organized by four French merchants specialized in tribal arts: Laurent Dodier, Bruno Frey, Jacques Lebrat and Anthony JP Meyer. The objective of the fair?
"Escape appointments known to primitive art to return to the pleasure of sharing, conviviality and exchange around art. "
Twenty merchants are expected to attend the event:
Caubel Jérôme and Stéphane Brosse / Uzes
Gallery Didier Claes / Brussels
Galerie Laurent Dodier / Le Val-Saint-Père
Michael Evans Tribal Art / Dijon
Bruce Floch / Annecy
Galerie Bruno Frey / Arnay-le-Duc
Ben Hunter Tribal Art / London
Stéphane Jacob - Arts of Australia / Paris
Kapil Jariwala / London
Galerie Olivier Larroque / Nîmes
Punchinello - Jacques Lebrat / Paris
SL Gallery - Serge Le Guennan / Paris
Lemaire Gallery / Amsterdam
Patrick & Ondine Mestdagh / Brussels
Anthony JP Meyer Gallery / Paris
Ratton Gallery / Paris
Bryan Reeves - Tribal Gathering London / London
Islamic and Indian art art - Alexis Renard / Paris
Adrian Schlag - Tribal Art Classics / Brussels
Tribal Design - Elizabeth Verhey / Amsterdam
Communication was entrusted to DELVOYEURS, a young company events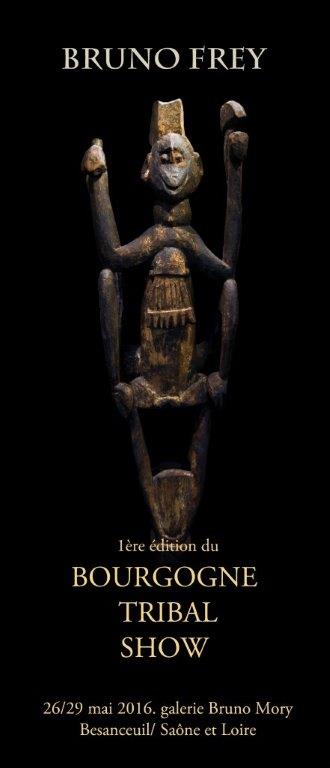 lundi 11 janvier 2016, 13:36
Précédent
Suivant